The best kitchen appliances repair Dallas techs are at your service, just in case something is not right with the dishwasher or the freezer is leaking. Isn't it a huge relief to know that there's a team right around the corner, ready to address sudden problems with all major kitchen appliances?
Hold on to the number of Expert Appliance Repair Team Dallas. You never know when the oven may act up or the fridge will stop cooling. But the moment you face such or similar problems, it will suffice to drop our team a ring to swiftly get solutions to your problems. Should we show you how things are done when you turn to our appliance repair Dallas TX team?
Superfast kitchen appliances repair in Dallas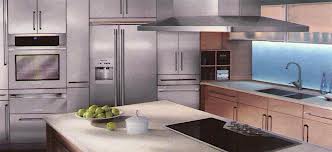 Is the refrigerator overcooling? Or, the stove is not heating up? By assigning the kitchen appliance repair service in Dallas, Texas, to our company, you gain the deserved peace of mind that the problem with the range or the freezer is fixed fast.
We handle all kitchen appliance service requests fast, even faster when they are urgent. Who doesn't want the fridge repaired quickly if it's leaking? Who wouldn't appreciate the fast response of a stove or range repair tech?
Never hesitate to share your troubles with us. We always dispatch a local kitchen appliance service technician in no time. You'll see!
Want oven service? Fridge repair? Let us send an expert appliance tech
As an expert home appliance repair team, we know everything about ovens, stoves, microwaves, refrigerators. No matter which kitchen appliance is giving you trouble, turn to us without giving it a second thought.
One of the advantages of relying on our appliance repair company is our fast response, but there's so much more that make our team the best choice for services. To make a long story short, we always assign services to licensed techs that work with sophisticated equipment and use genuine parts to fix kitchen appliances. Expect nothing less from our devoted and expert appliance repair team in Dallas.
Excellent and swift service for all main home kitchen appliances
Apart from responding quickly, the appliance technician is equipped well to fix the fridge, range, oven, stove, or dishwasher. And do you know what else? All such major gas and electric kitchen appliances can also be installed and maintained, irrespective of how advanced they are, irrespective of the brand. Take no risks with your wall oven, the fridge, or the stove by trusting our team with any & all in Dallas kitchen appliances repair services. Care to say how we can serve today?